---
---


2006 - CAULDRON UPDATE.
I have struggled for years with having a smoking/bubbling cauldron. Last year I had so many visitors, I didn't have time to use the dry ice. Purchased a 12" table top smoking/color-changing mister at Christmas for $15 but haven't used since 1st time when it sprayed water outside the bowl. Early August received a Lillian Vernon catalog and saw a smoking/color-changing cauldron and realized I already had everything I needed to upgrade my cauldron. I will use the mister propped up inside the cauldron and eliminate the dry ice. My cauldron is much bigger than the Lillian Vernon one.

Since 1998 I have stood out front dressed as a witch stirring my cauldron of body parts stew. I have a very old wrought iron planter with the bottom rusted out (it was my grandmothers). I set it on top of a large gray milk crate for more visibility and place skulls on stakes in front to mask the crate. I place a tall pot of water inside. I tape hand and feet props to the edge so it looks like they're sticking out and use a large plastic bone for my stirrer. Nearby I have a table of stew ingredients in large clear jars (eyeballs, mice, snakes, bats, spiders, small skulls, shrunken heads, witches fingers, sticky ears, monster (pig) ears, one of those grow-in-water brains, a container of blood (red water), poison apples (not really), arm, legs, and anything else I can think of).


In 1999 I used hot water and dry ice to create the bubbling effect but, had to keep going inside for more hot water.

In 2000 I got a propane burner to keep the water hot. Also that year, I asked the trick or treaters to get me an item to add to my stew. I allowed them to toss it into the stew from a safe distance and at the same time I would toss in a piece of dry ice for the effect. Most of the kids (and especially the adults) thought this was "COOL" and it allowed them to participate in the display.

2002 - broke propane burner - back to hot water

The Potions -Circa 2005

I bought a bunch of old jars with glass tops at thrift stores (.50-1.50) and replaced the food jars I had been using.
A neighbor threw out this old footlocker and I grabbed it from the dumpster (with his permission).
I realized after looking at this picture, I need to build some small shelves to properly display the potions.
Circa 2000

The Bubbling Cauldron


Circa 2000

The Stew Ingredients


Circa 1999

| | |
| --- | --- |
| I tell folks "If you're missing a body part, look here first" | New fiends guarding the Body parts - 2005 |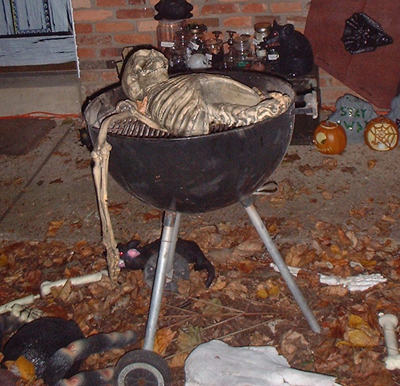 Bones on the Barbie added 2006



PLEASE SIGN MY
BOOK OF THE DEAD


---
İHolly A Zell
Revised: November 10, 2008 22:22
All Original Artwork Copyrighted.