A MOOT!
At work, I found a large roll of heavy-duty plasic and after checking around for who owned it, they let me take it.
I'm going to use the plastic to line the drainage ditch by the road in front of the graveyard (The true reason behind the Bridge of Death prop).
But there is a complication -- the ditch sloops down -- but I have a solution.
I'm going to use bricks to make locks and step down the ditch so it will hold water.
Now mind you, this is all in my head, and it may not work. The sloop could be too steep.
But won't it be cool if it does?
Note to self: Going to need to make "Keep Out of Moot" signs.
A CAISSON!
Definition: a horse drawn cart with 2-4 wheels used to carry ammunition boxes or coffins for military funerals.
I don't know where this idea came from but thought it might be cool to have one.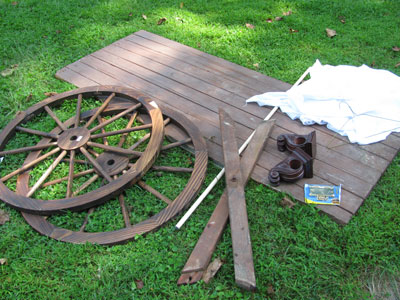 WHAT I ALREADY HAVE:
2 wagon wheels found months ago on sale at Kmart $13 @. I found a picnic table with a missing leg on the way to volleyball. It's absolutely perfect for this prop! I will use the wood from the one leg to make the front pull handles
From the thrift store, I got 2 wooden curtain rod holder ($1.90) to hold wheel axle and one white crinkle cloth curtain ($2.99) for the canopy
Will use old broom stick for axle
The detachable canopy (for storage) will be made from 3 wood slats and the curtain from the thrift store. One will be missing so the cloth will hang down, torn, to one side.
A 4ft coffin with no bottom, gotten years ago.
A skeleton for a driver (Looking for a tall black hat)
Since I don't have a horse, I'm going to have my large spider pulling the cart. (I can't afford Trigger)
WHAT I WANT TO DO:
Make the top of the coffin raise and lower just enough to see skeleton hands/arms. (need to get motor)
I can build the mechanism on any board and just set it under the little coffin, it has no bottom.
I'll have to attach the arms to the underside of the lid, so they appear, dangling down, when the top is lifted.
If I decide to put a narrow side on the caisson bed, I'll use some of the molded half skulls I bought when I went to the Haunter Convention in 2009 to decorate it.
When I get it all together I'll paint it similar to how I painted the Bridge of Death.
Don't know exactly where it will reside in the haunt yet but it will be featured prominently...
A Final Note...
This may be the LAST YEAR FOR HOLLYWEEN.
If you've always wanted to see HOLLYWEEN...
DO IT THIS YEAR!
A Reminder: When you visit my haunt, take notice of the small details. There are many haunted treasures sprinkled throughout my haunt.