---
---


Conceived in 2005...
Early in 2005, I purchased a couple of torture chamber/dungeon themed props on eBay (caged skull and skeleton) but after receiving them realized they did not quite fit into any of my existing display areas. Over late summer I had created the Mistress of the Dungeon (original name "Walking Death") and had not quite figured out what to do with her, either. I had wanted to do something with my 2 large plain garage doors and when I came up with the Mausoleum idea, I originally planned to do both garage doors. But after starting to make them, I scaled back my efforts to doing one door. But what to do with the other door???
I recognized I already had the beginnings of a great dungeon when I considered the existing Torture Chair and Gallows props . And I already had the 50' stone-like Scene Setters wallcovering which had gone unused since I purchased it in 2001. I went out to my local party supply store and purchased another Scene Setters containing two 5' pieces of skeletons trying to escape from behind bars and a metal door. Together, all the Scene Setters would make a great dungeon background!!! I could hang my new caged props from the overhang in front of the door (my vette just fits underneath).
But still something was missing...
While leafing through a Halloween supply catalog, I saw what they were calling Standees, themed stages with openings you could go pose behind for photos and laughs. But they wanted way too much money and I decided to make one myself (read all about it at the Standee link). As I thought about the placement of the Standee in front of the door, I considered how to decorate around it to tie it in. Then it hit me, THE MISTRESS!!!! She would stand next to the Standee and hold the keys to the Dungeon, literally. A Halloween photo-op and a new Hollyween theme area has been born.....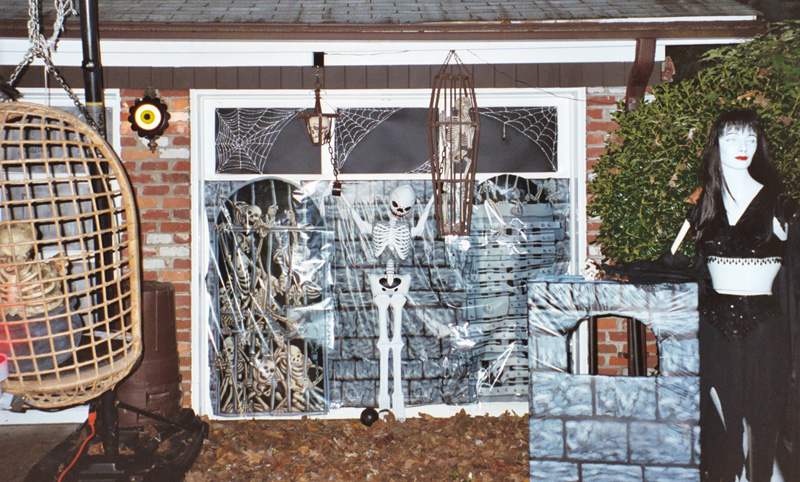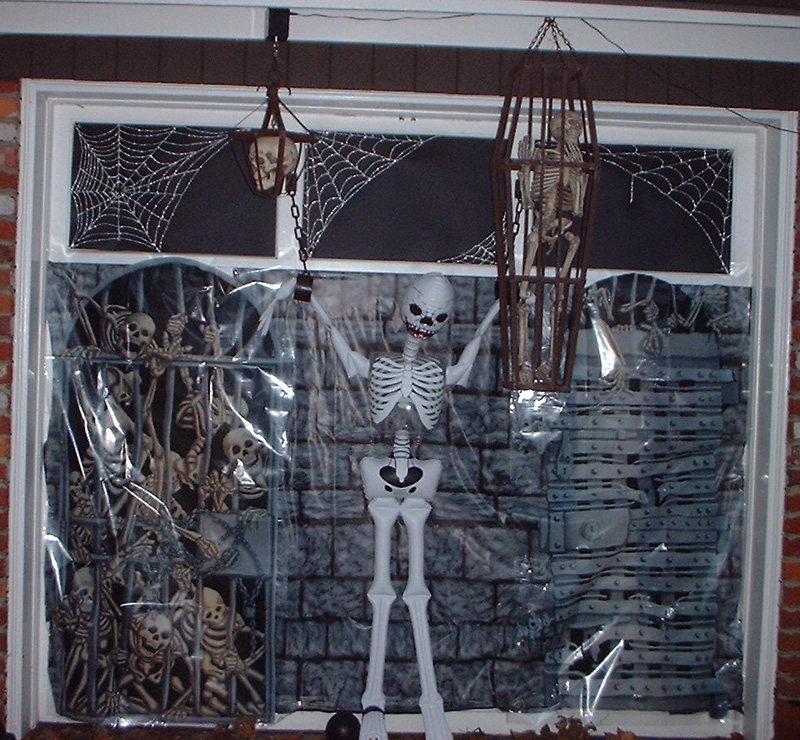 The Dungeon background (right driveway door)
Created with Scene Setter props. I made the 3 black spider web panels from poster board and glitter glue and glued on some large plastic spiders.
Purchased fake manacles ($5) to suspend blow-up skeleton thru eBay but he didn't go up until Halloween day because I had to nail them to the door and therefore, could not open the garage door without breaking them. As it turned out, I could not drive the car behind the door because the battery was dead so, the setup remained for half a week before I got the car running again, then down came the manacles.
| | |
| --- | --- |
| | |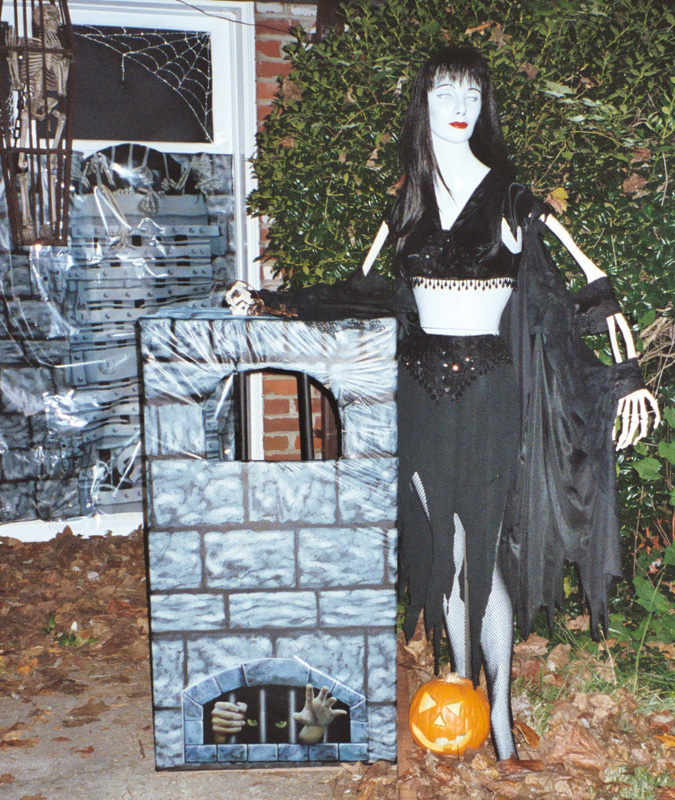 The Standee I crafted along with the Mistress of the Dungeon ready for photo-ops
(....I'm ready for my close-up, Mr. DeMille)



---
İHolly A Zell
Revised: October 08, 2007 11:53
All Original Artwork Copyrighted.