---
---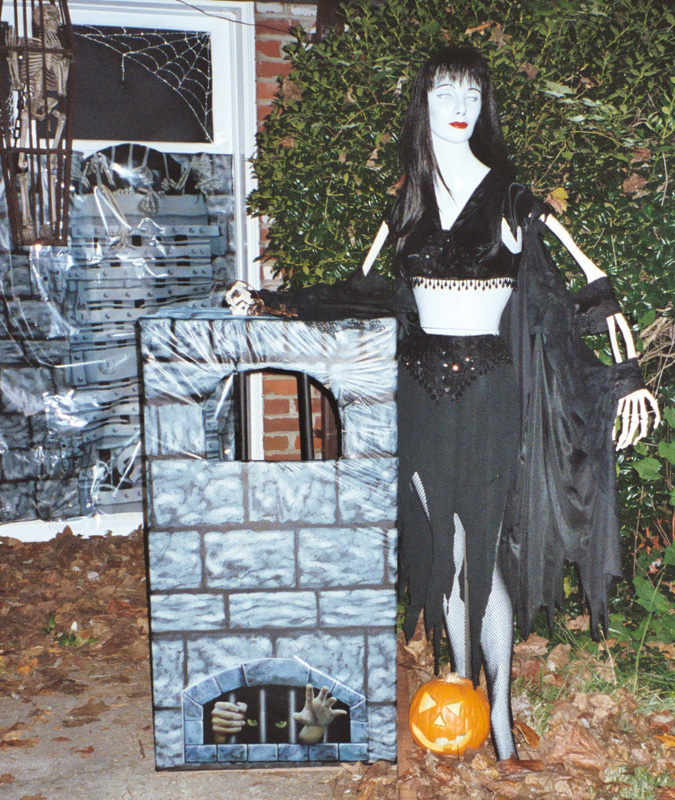 The Finished Standee on Halloween night 2005 in the new Dungeon area accompanied by the Mistress of the Dungeon.
Added 2005...
I got the idea for a standee from a Halloween supply catalog. They were selling them starting at $70 and made of ridged cardboard. Way too much money!!!! Initially I was going to make it out of a large cardboard refrigerator box. But, on my way to school one day, I noticed a neighbor had put out a pile of wood boxes with a sign saying "Please Take", so...... When I stopped to get one, I found they were actually reinforced stage platforms, covered with carpet and very heavy so, I picked a small one, 3ft x 4ft. Otherwise, I probably would have brought home all I could fit in my truck.
| | |
| --- | --- |
| Front | Back |
In 2001 I bought a lot of props at an after-Halloween sale. One of the things I bought was a roll of 4ft x 50ft plastic stone-wall Scene Setter.
I had been sitting on it trying to decide how I could use it in my haunt.
The wait is over....
I decided to use it to cover the standee box. I also used some on the garage door making up the dungeon background and inside the house to lend a gothic/medival flavor....
I cut a large semi-circle in the top third of the box to make an arched dungeon window.
I used leftover pieces of PVC pipe painted black to make the bars.
I added another stick-on picture of a hand with glowing eyes reaching through some bars to the bottom front.
For stability, I nailed an 8ft 2x4 piece of lumber to the bottom on one side extending beyond the standee in front and back.
I knew the kids would grab hold of the bars and try to shake them pretending to get out and I didn't want the standee falling over on them.
The 1st person I saw taking a picture behind it was an adult, doing just that...



---
İHolly A Zell
Revised: October 08, 2007 11:28
All Original Artwork Copyrighted.