---
---


2004 - Due to age and weather my large cardboard tombstones are reaching the end of their life. I'm still using them but they require a lot of propping-up and reinforcement. Because of this tragic loss, I decided in 2004 to upgrade the graveyard with foam tombstone. I got cheap ones (under $9) at Party City and KMart. I made some foam tombstones from 3/4 inch insulating foam. In 2005 I purchased 30 more foam tombstones, most of them unique, mostly thru eBay. I've gone from the 6 cardboard tombstone to over 50 tombstones. It's no longer just a graveyard, it's a Cemetery!! It nice to be able to set up the graveyard before Halloween night.
Circa 2004


One side of the NEW graveyard showing some of the foam tombstones and one of the new entrance columns I made.

Flashing No Vacancy Tombstone
I found this idea on the web and decided to make one. I used 3/4 inch pink insulating foam. I traces one of the cheap purchased tombstone patterns. I used a 100 light set and drilled more holes than Scott Brewnell did in his instructions (http://brunell.hostrocket.com/halloween/vacancy.htm).

The Obelisk
I made this tombstone using directions from Screamin' Scott's website: http://hometown.aol.com/smessin983/Halloween/Obelisk.html
I think it turned out great but, it wasn't easy and I never got everything to line up correctly. But once I painted it, the mistakes were hardly visible. I used gray spray paint, sprayed some ransom black splotches and then used the stone textured spray paint all over to finish it off. The decoration is a cheap plastic doorknocker ($4) I got at CVS and spray-painted gray. I glued it on last using Liquid Nails. I used a clear matte sealer spray to protect it from the elements.

Some of the Purchased Foam Tombstones
Some of the 30 new Tombstones purchased in 2005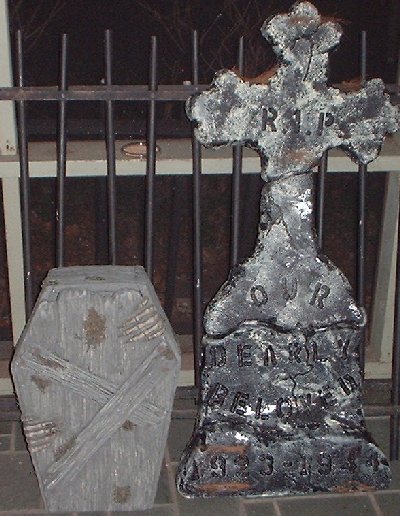 PRE 2004

1994 - I inherited my tombstones from a friend. He made them many years ago out of cardboard boxes and paper-mâché. Because of this, I cannot leave them sitting out in the elements, they would deteriorate into a wet blob. I usually have to do repairs and touch-ups every year. I keep them on my front porch until Halloween night which means the graveyard is not in place until then. They do look very realistic though.

These tombstones gave me the inspiration that resulted in my trying to create a more realistic Haunt, setting me on my creative journey to Hollyween as it exists today. I had to throw a few out in 2005 due to their severe deterioration. I mourn the loss of these old friends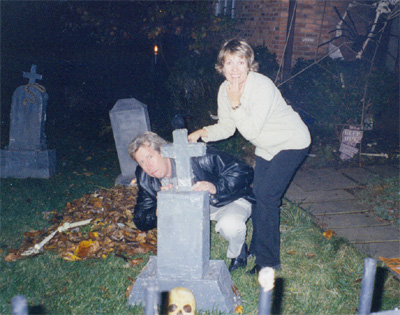 Circa 2002



---
©Holly A Zell
Revised: April 07, 2006 20:17
All Original Artwork Copyrighted.