Historical Tacky Christmas Lights 2005

IN FAIRFAX COUNTY, NORTHERN VIRGINIA

Last Updated
16-Jan-2008
(With a name like 'Holly', how could I not recommend Christmas Lights???)
---
Photographic Tour of Tacky Christmas Lights
No relevance to numerical order.
A SPECIAL NOTE
TO THE HOME OWNERS APPEARING ON THIS LIST:

My use of the term "Tacky" is in the form of a term of endearment, not an insult. Appearing on this list should be considered an honor as I truly love each and every display on this page. You have given me so much joy and this page is my way of sharing that joy with the world. Your efforts are greatly appreciated by me and many other Christmas light lovers.

May your Christmas spirit and lights always shine brightly.
God bless you and your displays.

If you do not wish your home to be included on this list,
please contact me at hollyween@hotmail.com.
Though it will sadden me to have to remove anyone from this list,
I will honor your wishes.

With love to you all,
Holly
























































Suggested Christmas lights locations submitted too late for 2005 - No time to verify
5503 Chestermill Court, Fairfax - lots of giant blow-ups
Braymore Circle, Fairfax Station
Stonefield Drive, Clifton

---
If you see other local displays you would recommend,
please email me at hollyween@hotmail.com with the address so I can check it out and add it to my list.
For tips on taking photos of Christmas lights visit the New York Institute of Photography
---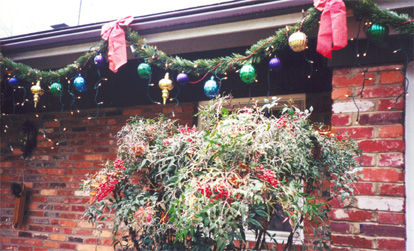 MY Christmas Decorations
My "Tacky" is the Light-up Santa.
I inherited him from a great aunt who owned a motel in Rehoboth, Delaware.
---
ACKNOWLEDGEMENT
This web page would not have been possible without the information provided in the Fairfax Journal Newspaper.

İHolly A Zell
Revised: January 16, 2008 12:05
All Original Artwork Copyrighted.
All photographs by Holly Zell unless otherwise noted.