Holly's recommended

Historical Tacky Christmas Lights 2006

IN FAIRFAX COUNTY, NORTHERN VIRGINIA

Site updated almost daily during the two weeks before Christmas

Last Updated 16-Jan-2008
(With a name like 'Holly', how could I not recommend Christmas Lights???)
---
Looking back at Christmas 2006

A special thanks to all who sent me addresses to check out. You keep this list going with your participation. This list grew by 9+ new additions in 2006 with only one loss. May your days (and nights) be Merry and Bright....Holly

Via this page, I have become a minor local celebrity this year. I was interviewed by two news organizations. I was heard on WTOP talking about Christmas lights. I was interviewed and photographed for an article appearing in the Times newspaper, Fairfax edition. (See... even a simple data manager can achieve notoriety.)
Link to Times article: http://www.zwire.com/site/tab5.cfm?newsid=17611967&BRD=2553&PAG=461&dept_id=506096&rfi=6

Each Christmas brings some new "in" thing.
I remember when I first saw icicle lights (which I love).
I was disappointed when inflatables took the place of many light displays in 2003 but was happy to see lights (and inflatables) returning the following years. This year the "in" thing is synchronizing lights to music and broadcasting on an FM channel.
Note to homeowners: Have all lights come on frequently enough so viewers can see the full volume of your decorating efforts.






Can't get a good picture because of trees and traffic... You need to park and get out the really enjoy this one...







7723 Fisher Drive, Falls Church - since 2005
If Pimmit Hills is still having a contest, this one is the winner. The green wire light tree is 3 stories high.






Another house in Pimmit Hills - corner of Griffith and Leonard I think...





1713 N. Quebec Street, Arlington


A small yard jam-packed full of lights and vintage lighted figures (blow molds) set up in various displays.
I like the large Thomas the Tank Engine, an all-seasons yard decoration, being boarded by a multitude of lighted Santa figures.
(In 2005 Santa and Thomas are part of the choir. In 2006 it's a Santas crossing the Delaware.)
Also liked all the different colored trees and the polar bear/penguin display.




6283 Wills St, Alexandria






Several groupings of lighted figures backed by multi-colored lights synchronized to music.
Loved the Penguin and Polar Bear group and the gingerbread group. A forest of lighted trees.
Nov. 24, 2006 - Graciously invited to lighting party, delightful people...




6634 South Kings Highway, Alexandria




My son in front of this popular house decorated differently every year but always over-the-top
Has a small working train for giving the little ones a ride, Dec. 22-24, 2006, 6-10pm

Other houses on Memorial, east and west






128 Nutley Street, Vienna





Again very pretty with use of different colors for different objects...lots of blue (my favorite color) lights outlining the house, buildings
The lights are abundant and wide spread but subtle. Photos don't do justice...
I also like the shopping center (The Village Green) decorations next door. The uneven roof lines look great outlined.




3912 Lincolnshire Street, Annandale
Also, check out 3909 Lincolnshire and houses on Patricia St. and Brookcrest Pl. off same section of Gallows Rd.



For some reason the right front yard was bare but for the one snow globe
Looking down the driveway. Most of the blow molds were set up here


a cascading snow flake, wire deer and other figures and lights in the back yard


3909 Lincolnshire St



2005
2006

Patricia St.

3912 is an all-time favorite... Lights and lighted figures cover every square inch of the yard, backyard decorated, too and gets bigger every year.
3909 since 2005 picking up the slack left by 3917 which stopped decorating in 2005 due to loss in the family.



2507 Fairview Drive, Alexandria


How does he get all that on the roof?????



2006 - The moving/singing deer on the porch cracked me up....
Thought I was at Disney World, at Bear Jamboree...

2006 - added path for walking through yard and on porch...
Another of my top three favorites... You'll see the glow through the trees as you approach.
Overdone to the MAX!!! He is the KING of the Inflatables!!! He must have one of every kind available.
The right property line is lined with intermixed Santas and Snowmen.
The roofs was covered with lighted figures and inflatables, and there is still lots of lights...
Has a miniature village in picture window on porch. Love the vintage Three Stooges on the porch steps.
12/21/04 - Met Mr. & Mrs. Fairview Drive and son. A real pleasure! He's been doing this for 35 years!

6517 Hillside Lane, Alexandria

Son of Fairview on Hillside Lane. Everything Fairview can't fit in his yard is displayed in son's yard just around the corner on Hillside Lane.
Hillside has a much bigger lawn for displaying and now rivals his Dad's display.





1601 Collingwood Road, Alexandria


More colorful in 2006


New creation for 2005 - Leaping reindeer

| | |
| --- | --- |
| | |

My top favorite...Extremely large house and yard with beautifully done lights everywhere!
Very classy and tacky at the same time. I loved the ground cover done in green lights with the larger red (berry) lights.
Also, many groups of lighted deer figures. And the homeowner does all this, not a landscape company...
2006 - added 28 more leaping deer, 30 shooting stars, 250 strobes and 21,000 led's. Animated to music. Tune to 98.1FM.




East Juniper Avenue, Sterling (Loudon County) (east side of Sterling Blvd)
BTW: Sterling Blvd has several nice houses....

| | |
| --- | --- |
| | ...And for NASCAR fans, Santa's pitstop.... |

Everyone on this entire street gets into the act and it's like one of those drive-thru light shows. I loved the variety.
One house has large wooden Peanuts characters, for another it's the Simpsons. Look for a life-size Spiderman on one house.
Keep an eye out for Santa (Box for canned food donations)


1607 N. Amelia St., Sterling (west side of Sterling Blvd)

Small colorful yard.
House across street would be a nice compliment except there was too much flashing...




10715 Shadow Lane, Fairfax Station


Very large house and yard (several acres) with property line and all outbuildings outlined in white lights
2006 - got out to take pictures and was surprise by two large horses coming to greet me.
They seemed friendly. Next time I'll bring an apple or some carrots.
Check out colorful 11003 Hampton Rd. on right just before Shadow Land turn. Has bulls-eye on house.




5700 Claret Place, Centreville - since 2005



the dancing-lights skating rink

Corner lot encircled with candle and soldier lighted figures . Lots of vintage blow-molds.
Lots of lights and lighted figures some with animation and a few inflatables.
Love the angel chorus on the home-built platform. 2006 - Animated to music. Tune to 105.7 FM.
2006 - View write up on this one in local paper: http://www.connectionnewspapers.com/article.asp?article=75274&paper=62&cat=104

Lee Manor Dr, Manassas (Prince William County)
(Andy & Barb's Christmas Wonderland) - returned in 2006


Back after a two year hiatus.
Visit their website at http://www.christmaswonderland.org/





6226 Stonehunt Place, Clifton (Little Rocky Run) - since 2005

These lights took my breath away. These photos don't begin to show the true volume of lights, it's blinding!!
I've never seen so many light strings going in so many directions. Reminds me of a spider web. You've got to see this to believe it.

13703 Stonehunt Ct.




House behind on 13703 Stonehunt Ct. decorated with lots of lights and bright red candy canes lining driveway.




5509 Sequoia Farms, Centreville - since 2005

A ton of lights and figures. The yard is ringed by candy cane and candle lights.
Lots of wire-frame, motion figure lights. 2006 - Animated to music, 105.7FM.




11303 Stones Throw Dr, Reston (corner of Fieldview and Stones Throw) - since 2005


His large, unique Santa and reindeer to the left of front door
(Notice halo behind Santa head created by light reflection)


His life-size Manger to the right of the front door

A beautifully done home in twinkling white lights. Very tasteful and extravagant at the same time.
The entire property and home is encircled with white trees and bushes. Every window of the house is perfectly outlined in white lights.
Love the single pair of white wire deer in back yard and two-story Christmas tree visible through side window.





22. 13897 Ferrara Ct., Chantilly (off Poplar Tree Rd)






New for 2006 - Large collection of very unique wire-frames. Includes a Texas shaped one.





23. Chantilly - going live on Dec. 18, running nightly from 5-8pm
Please email for address until homeowner says ok to publish....

New for 2006 - A very colorful local version of a Wizards-of-Winter-like display synchronized to music. Tune to FM 97.7
From green to red to blue to various mixtures of those to white. I like the reindeer and sled next to the driveway as they come on, one by one.
Also like when lights formed holly-bush coloring (green with some red).
House is on small pipe stem so park outside and walk up pipe stem to see display. Also, has outdoor speakers playing the music.
Homeowner requests that visitors not drive or walk on neighbor's yards. Not all are supportive of his efforts and he doesn't want to get shut down so, please honor his request...
View video performance at: http://www.youtube.com/watch?v=lfp8QNfPM94
Dec. 2006 - Was invited for a private show prior to going live. Spent an hour talking to owner about his efforts and concerns. A very talented gentleman.


24. 11610 Henderson Road, Clifton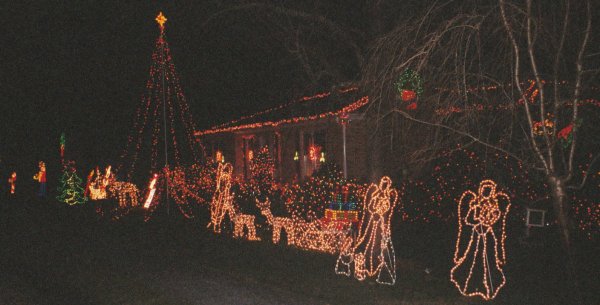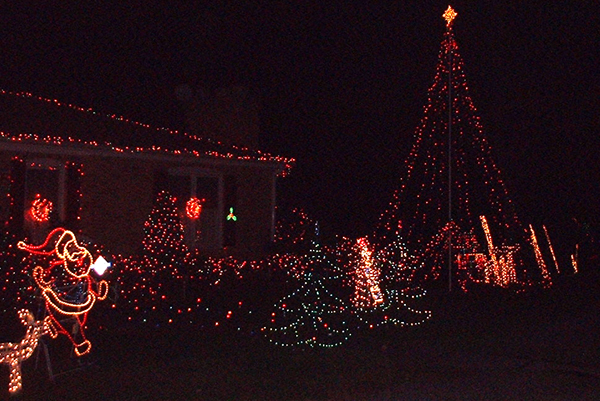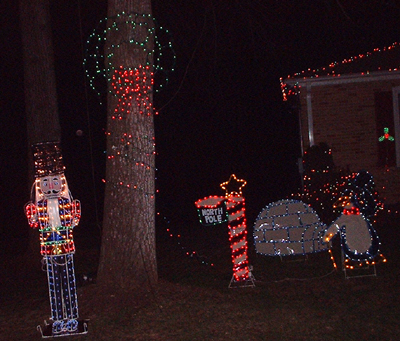 New for 2006 - Love the colors but behind trees from road.
Use small circle drive which goes behind trees


25. 8209 Lorton Road, Lorton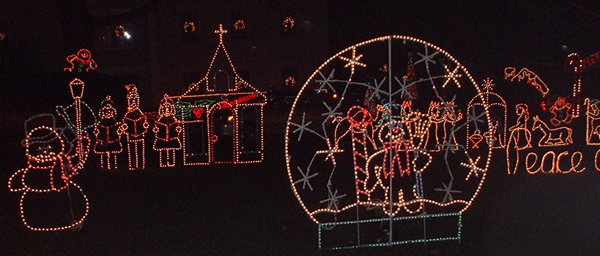 New for 2006 - Lots of unique wire-frames. But house only has lighted wreaths on windows.
Great display but hard to see from road because yard is below street level.

9905 Barbara Ann Lane, Fairfax





New for 2006 - Very colorful yard. Multicolored lights outlining house, roof, windows, fences and spiraled around every tree.
Santa and reindeer leaving skid marks on the roof and some inflatables...Love the giant nutcracker/drummer.
The Hi-Tech decorations have moved here....




5017 Swinton Dr, Fairfax


Bright, multi-colored display. Arch-lights over driveway. I like the wireframes lying on the roof, especially the nutcracker.
Has a "Frosty's day care" display (big snowman with little ones) around front tree.

9117 Anderson Lane, Fort Belvoir (close to Fx. Co. Pkwy off Rt. 1)


New for 2006 - The last of three architecturally similar homes all decorated with icicle lights. These folks love Christmas.
The house is decorated inside and out. If you see him in the yard, ask to see the Christmas Village, a wonderful private display of his wife's collection.

12-23-06 - Met Mr. Anderson Lane. Wonderful gentleman.
I normally make notes before I leave a display so I can recall what I liked best. But I hardly remembered the outside.
Because I got a private showing of his wife's Christmas Village and was totally blown away.


29. 9419 Braymore Circle, Fairfax Station - (not sure if house address correct)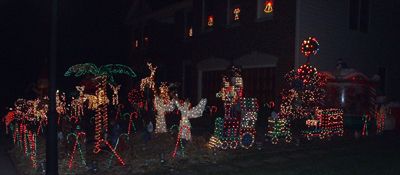 Small yard encircled with red and green candy canes. Couple of palm trees for good measure.
Santa in sleigh with full compliment of 8 large reindeer. I like the nutcracker between garage doors.
Needs to add lights on the house...

30. 5601 & 5604 Hereford Ct., Alexandria

This one absolutely glowed...



New for 2006 - Described as "Dueling Tackiness on Hereford Ct."...
5601 has lots of multicolored lights around windows, house outlined, trees, front columns and a large Santa and reindeer on the roof.
5604 has lighted figures, inflatables, candy canes, multicolor and white lights. Look for flamingo in the tree.
(12-27-06 met 5604 Homeowner - scaled back display this year due to an injury but has big plans for next year - look out!)
BTW: Neighborhood has great Christmas spirit with lots of decorated homes.
Also check out the corner of Kingsbury and Broadmoor for lots of multicolored trees and deer, candy cane entrance arch
And check out 7716 Hayfield for another multicolored house with 4 red & white striped columns and lit candy cane walkway.

Honorable Mentions

9802 & 9804 Kirktree Ct, Fairfax

End of Fitzhugh St, corner with Boothe Dr, Burke


Multi-colored lights on everything with reindeer leaping over driveway.
A long time favorite that I just can't get a good picture of.

33rd Street, Falls Church

(love the landing lights to left of door)

2524 S. Winchester, Falls Church
(was retuning on Westmoreland from 33rd when I saw this one high above the trees - Half of a duplex with lights 4 stories high)

5241 Richardson Dr, Fairfax
Animated to music. Tune to 92.5
(promised to expand lights next year - very, very nice people)

3422 Holly Rd, Fairfax

Many wireframe figures

7208 & 7212 Backlick Rd, Springfield
(where parallels Rt. 95, south of 495)
Two homes of lights and lighted figures putting off a nice glow together.

8311 Guinevere, Fairfax

(looks like a bad trip...)

10023 Glenoak Ct, Vienna
A hodge-podge of decorations and lights


Corner of 6103 Barros Court South and 6139/6141 Barros Dr,
Centreville




Three houses on a corner delight the neighborhood

Other display addresses received
but unable to visit....

Hanover Heights Trl, Fairfax Station

15410 Wicker Ct, Woodbridge
(Loudoun County, 95S past Potomac Mills-too far for me)

Wellington Ave, Manassas
(across the street from the Vulcan Quarry maybe the 8600 block?).
It has a huge boat pulling a snowman on ski's.

7500 Forrester Lane, Manassas
Lots of moving homemade wooden children's characters
Visit site at http://christmasdisplay.doctorbee.com

9000 Tyler Ct, Manassas

Fyfe Ct, Fairfax

3111 Plantation Pkwy, Fairfax

Harwood Pl, Springfield

Tackiest Business of 2005....Still tacky in 2006
1. Cingular located on Rt.29, south of where it intersects with Rt. 28 on left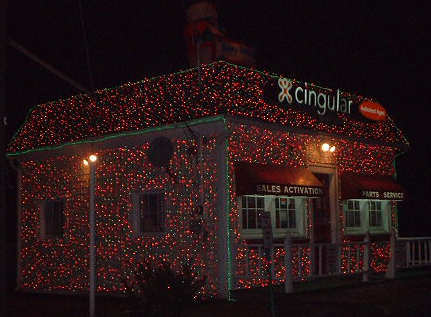 2. Shell Station at corner of Rolling Road and Old Keene Mill Rd
Tackiest Prior to 2005 - Hi-Tech Transmissions, Merrifield



The definition of "Tacky". This business put lighted figures on their roof for years but, discontinued in 2004.
Last year they were going to throw them away. I saved them and as of 12/20/06 they have a new home with #26 on the list.


And if you live in Maryland, here's one for you......
8406 Elko Dr, Elliott City, Maryland


Photo by Jon
Kluckhuhn Christmas Tree, a decorated 65-foot white pine tree at 1200 Montgomery Street, Laurel, Md.
A treasured holiday tradition since the 1960s - Owner passed in spring 2006 and family is continuing the tradition.

---
If you see other local displays you would recommend,
please email me at hollyween@hotmail.com with the address so I can check it out and add it to my list.
For tips on taking photos of Christmas lights visit the New York Institute of Photography
---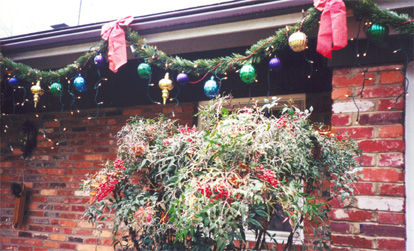 MY Christmas Decorations
My "Tacky" is the Light-up Santa (...and my son's bike left out on the porch).
I inherited him from a great aunt who owned a motel in Rehoboth, Delaware.
---
ACKNOWLEDGEMENT
This web page would not have been possible without the information provided in the Fairfax Journal Newspaper.

İHolly A Zell
Revised: January 16, 2008 12:05
All Original Artwork Copyrighted.
All photographs by Holly Zell unless otherwise noted.