Haunted Books
http://usersites.horrorfind.com/home/halloween/chrisscrypt/haunted_books.html
http://demonware.horrorseek.com/bookshelf.html
http://www.geocities.com/mudflap68/ (this one has a video)
For those who have visited my site in the past, the Haunted books have been on my future projects list for a while but I've finally decided to at least get started.
A gigantic Thrift store opened this year on the other side of my block and I've been visiting monthly. Recently while there I remembered to look for hardback books and found a treasure trove of them. But not just any books would do. They had to have spooky names but not necessarily spooky content. I found just what I was looking for with each book priced between $2-$3. Below are photos of the books I purchased with great titles. It's a good start...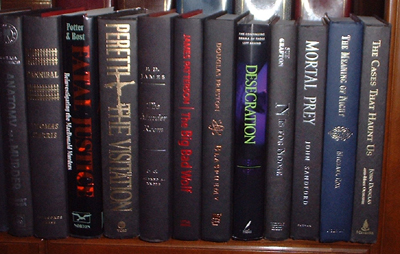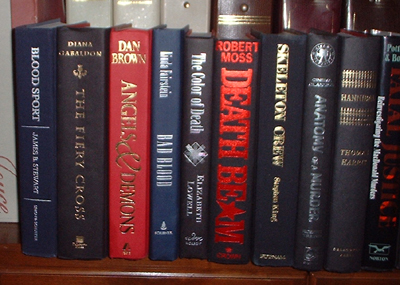 I'm planning on placing them in the Funeral Parlor replacing the photo albums that usually sit on the shelves and where they'll be noticeable as you walk through to the coffin. In the past I've covered these shelves with spider webs.
This prop isn't as easy as the Leering Prop but I've got plenty of time to think about it.
Leering Prop
(love the video of this one)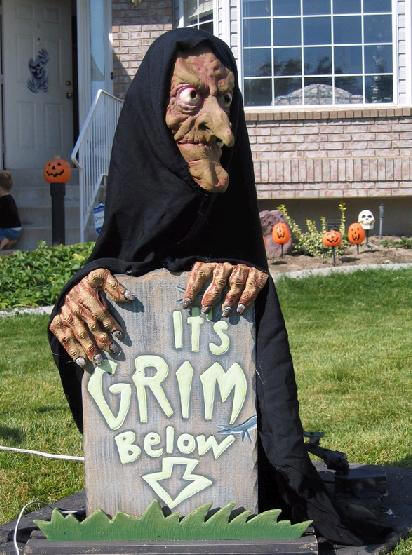 I've been interested in creating a prop like this for a couple years (Up & Down head) but prior instructions used a 12V battery and seemed too difficult.
Based on these instructions I already have almost everything I need. I replaced one of my CVS moving Christmas deer this year because the plug had broken off to the lights but decided to keep the old one in case I could fix it. Well, now I will be removing it's motor to use for this prop. I had already purchased a large tombstone for this purpose two years ago. I have many masks and hands I can use. I just need to go get the PVC pipe and get to work.
This prop will reside in the back of the Graveyard, close to the house.
Now I just have to think up a good name for it...