---
---

Added 2004....It took me less than one hour to put together my Gallows. I already had all the supplies.



Supplies: 1 4x4 8' post;
1 2x4; 3" nails;
2 pieces of Thick rope, tied in hangman's noose (see warning below);
2 prop bodies/skeletons to hang.

Instructions:

Cut 2x4 length to desired length for top.
Cut remainder to make the two diagonal supports. They will need angled end cuts.
Nail together.
I nailed the ropes in place at the top.
I already had a concrete base in the ground (from a previous owner project). I used spare wood to prop it up so it wouldn't fall. (Note: I saw a metal post holder available for about $20 at Home Depot. It had a 2 foot spike that went in the ground and the post inserted into a molded box on top.)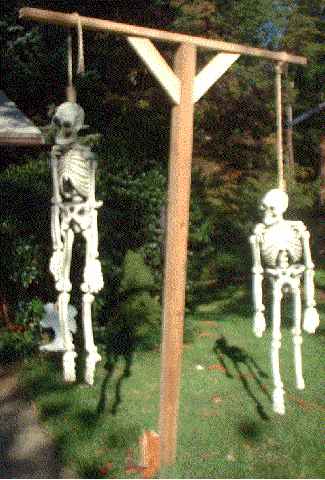 NEVER put a noose over a living persons/things head and never play hangman.
Do not leave where children can access it.
Don't take any risk that could result in a deadly accident.
If you are not a responsible adult, do not make or use a hangman's noose!
If you're not sure if you are a responsible adult, do not make or use a hangman's noose!
Hollyween accepts no responsibility for the irresponsible use or misuse of this prop.



---
İHolly A Zell
Revised: October 08, 2007 11:23
All Original Artwork Copyrighted.