---
---
Status 2009

Oct. 24/27 - A rainy Saturday interfered with my putting up the graveyard and I had to take off 4 hours on Monday to get the tombstones out but, it's coming together. Will not finish decorating the graveyard until Friday, which I'm taking off work.
Made 60 treat bags.
Got the coffin setup but still have to make the body.
Brought some dead flowers in for around the coffin.
Set up my drop-eye skeleton whose eye is now permanently dropped-out.
Found two black TV table by a dumpster that I'll use to put things on.
My organist is in his cornor all set up.
Decorated the billiards room ceiling last night.
The large homemade tombstones will not make an appearance this year. Their creator had a recent death in the family and does not have time to help me with repairs.
Don't think I'll be posting another status this year as Halloween is fast approaching and I'm unable to get any work done on Wednesday and Thursday so, this is it.
Thanks for following along and see you this weekend....

Got the fences up on Sunday. This is what it looks like before I add the tombstones

The new "found" 8ft fence sections. Ran out of black paint so, only painted front. Since it will be dark, don't think it will matter. Will paint it better next year.

Put out tombstones on Monday. Will put finishing touches on greaveyard on Friday.

Tombstones are in place. Still have a few to secure. Notice a new Haunter Convention purchased skeleton with his arms leaning through the entrance gate.

Mail box area at the end of the driveway
Ghosts and a tree-hugging skeleton
(one of the six I got at the Haunters Convention for $10 apiece)
Oct. 16/18 - My brother called and said he and his kids wanted to help me haunt this year.
Since I've never had haunt helpers, if this comes through, it will change the experience for those waiting in line.
I finally got my haunted books working! But they are soooooo noisy. Documented the process as I went. Look for new page under Props soon.
Put up spider webs upstairs (Broke my "speak no evil" gargoyle in the process-badly).
Hung the dining room ceiling ghost.
Went to get more dead flowers Saturday and a huge pile awaited me. You should have seen my smile...even in the rain.
Think I've got enough for this year. Thanks, Ed!

| | | |
| --- | --- | --- |
| The Dead flower collection for 2009 | | |

Video of Haunted Books
Oct. 10/12 - Got a few more things up; The Gallows, The Mausoleum, the Dungeon background.
Unpacked some more boxes, hung some things inside.
Worked on Haunted Books - still not working.
Moved my house plants off front porch and back inside.
Went to get dead flowers but they only had a few. Will have to return later this week for more.
Oct. 3/4 - Hung ghosts from trees, put up giant spider web. Skeleton that resides on the web needs some gluing.
Had some tree trimming and removal done this summer so lost most of my ghost mounting branches.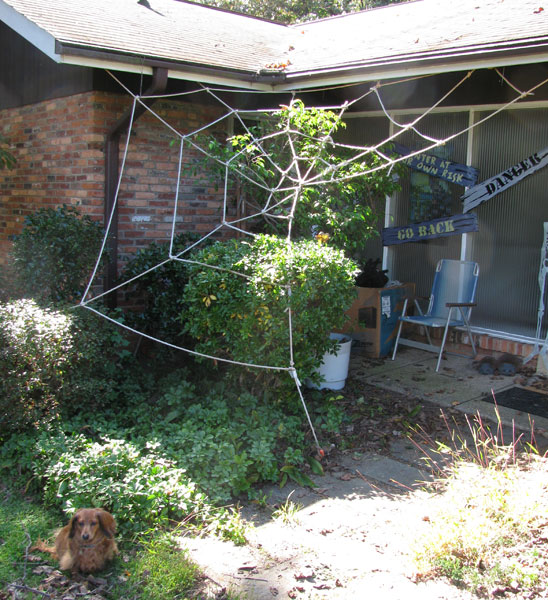 My little brown helper/guard dog poses with the web - Watch out for the Gators!
Rats got to my homemade tombstones and ate off the paper mache. Have called their creator to see if they can be salvaged.

Can these be saved? will know soon...
We killed 5 rats! Now That's Scary!!!

the only real bone, a cow skull

New prop added last year in front hall.
Oooohing sounds like a cow mowing so, the joke is that this is the ghost of the cow skull out front.
Started decorating Sept. 26 - Sept. 26 with shelf inside the Funeral Parlor.



---
İHolly A Zell
Revised: 10/13/09
All Original Artwork Copyrighted.